2006 Haybarger Ave
Erie, PA
about us

Frontier General Contracting, Inc.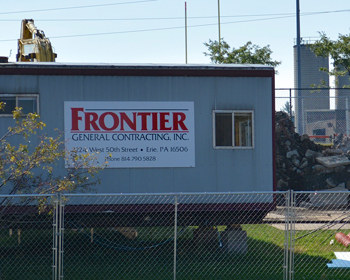 Frontier General Contracting, Inc. was incorporated May 2012. We have been incorporated for the express purpose of performing all phases of general construction work on private industrial, commercial and institutional projects. We are staffed, equipped and bonded for construction of projects ranging in $1,000 to $12,000,000. We are licensed to work in Pennsylvania, New York and Ohio.
General contracting services include, but are not limited to: demolition, excavation, concrete foundations, concrete slabs, rough carpentry, finish carpentry, metal studs and drywall, acoustical ceilings, doors/frames/hardware and miscellaneous items.
Frontier General Contracting is comprised of two project managers/estimators, one book keeper/office administrator, fourteen field personnel comprised of five working field superintendents, six carpenters and three laborers.
Robert W. Doyle II

Frontier General Contracting, Inc.
Robert Doyle II is the President of Frontier General Contracting, Inc. He is responsible for all project estimating, office administration, coordination of all field related work functions including direction of project personnel, coordination of material deliveries and site visits.
Robert previously worked with Perry Construction Group, Inc. in 2011 and 2012 as a Project Manager. There he estimated and managed projects such as Penn State Behrend Window Replacement, Millcreek Community Hospital MRI Site and Mercyhurst College Academic Engagement. His project range was up to $9,000,000 dollars.
Before joining Perry, Robert was a Project Engineer at BN Builders, Inc. in Seattle, WA from 2007 to 2010. His responsibilities included establishing project budgets, developing and issuing bid packages, self-performed structural package and all building enclosure subcontractors, figuring change proposals, processing subcontractor change orders, subcontractor and owner billings, developing budget forecast reports for two self-performed bid packages and the entire project on a monthly basis.
Robert graduated from Pennsylvania State University in 2006 with a Bachelor of Science degree in Operations Management.
Recent Projects

HomeGoods
Millcreek Pavilion - Erie, PA
Dominos Pizza
Erie, PA
Advance Auto Parts
Northeast, PA
Mercyhurst Prep - Performing Arts Center
Erie, PA
Mercyhurst University - Ice Center Locker Rooms
Erie, PA
Unifirst
Meadville, PA
NWREC Maintenance Building
Cambridge Springs, PA
ChipBlaster - Warehouse Addition
Meadville, PA